The Falls: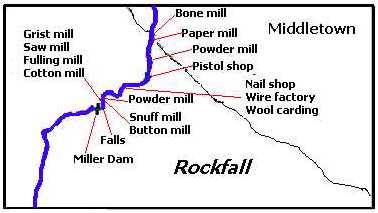 The second area developed was the Falls (Rockfall) with its 30-foot high waterfall. A gristmill started by William Miller in 1760 (1775) was the first mill built in Middlefield. William received the privilege from his father, Benjamin, who was one of Middlefield's founders. The mill, built at the Falls, used Miller Dam to control the water. A raceway ran from the dam to an undershot waterwheel. Miller ground wheat until 1800 when the operation ceased since both the mill and the miller were old and worn.
Around 1800 Joshua Stow and Jacob Miller, son of William, built a sawmill. It sawed five times as much lumber in a day as a pit saw. Non-profitable, the mill operated intermittently until Stow's death in 1842. At his death he was the sole owner of the site. A man of superior talent, Stow was employed by Connecticut to survey the Western Reserve. As a member of the Connecticut Constitutional Convention he authored the article which secured religious toleration. After his death the mill was repaired and refitted by Richard M. Bailey and ran at a profit using the run off water from the cotton mill.
In 1820 a fulling mill was built under the sawmill. Jacob Miller, a clothes dresser, ran it. It was near or over a rivulet on the south bank of the river, which made in easy to dye and rinse cloth. Jacob's son, Willard, carried on the business for several years after his father. Hand washed wool was beaten with fuller's earth to fill the gaps in the fiber. After 1847 the overshot water wheel was powered by excess water from the cotton mill.